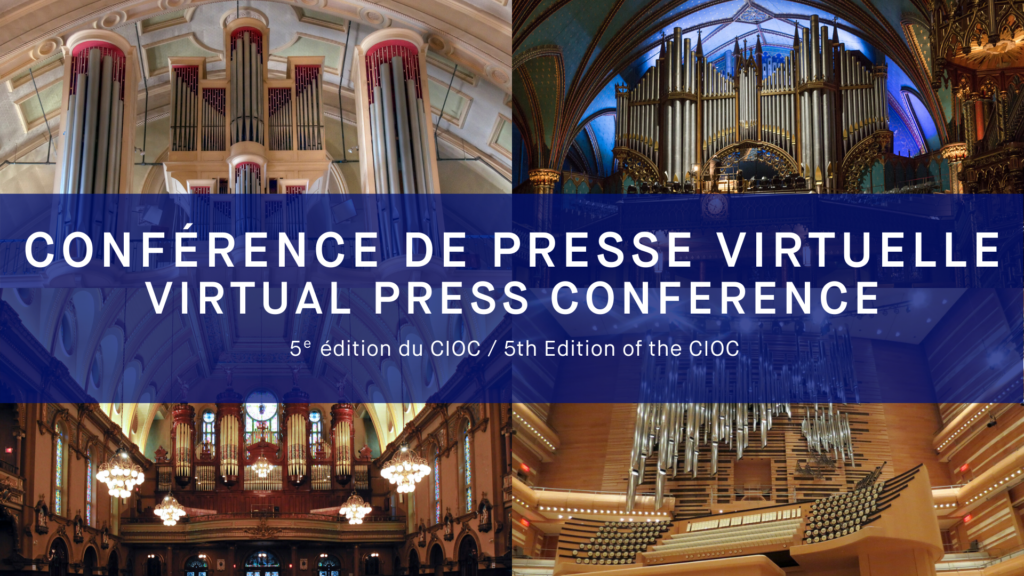 Unveiling of the chosen competitors and updates on the upcoming competition in a special livestreamed virtual press conference, May 12, 2020.
FOR IMMEDIATE RELEASE
Montréal, Québec, April 29, 2020 – The Canadian International Organ Competition (CIOC) will host a special press conference regarding the upcoming 5th edition of its triennial organ competition. It will be broadcast live on the CIOC's Facebook and YouTube pages, Tuesday, May 12, 2020, at 2:00 p.m. EDT.
Artistic Director Jean-Willy Kunz will present updates on the competition and unveil the names of the 16 young organists who have been chosen to compete in three live rounds in Montréal. These candidates were selected by a prestigious international jury from among 58 applicants representing 24 countries.
What to expect:
Important updates on the 5th edition of the CIOC
Unveiling of the 16 candidates (representing 9 countries) who will compete in Montréal
Video greetings from the 16 competitors and 9 jury members
Q&A with 2011 first-prize winner Christian Lane , 2014 first-pize winner David Baskeyfield, 2017 first-prize winner Alcée Chriss III, and 2017 third-prize winner Nicholas Capozzoli
Who:
Claude Lussier, Host
Jean-Willy Kunz, CIOC Artistic Director
Christian Lane, 2011 CIOC First-Prize Winner
Nicholas Capozzoli, 2017 CIOC Third-Prize Winner
When:
May 12, 2020, at 2:00 p.m. EDT
Where to tune in: