Yulia Draginda plays the Fantasie und Finale from Rheinberger's 10th Sonata, on the CIOC's Bach-Mobile. We are grateful to the Conseil des arts de Montréal, Groupe Spinelli, Place des arts, and Juget-Sinclair Organbuilders for their generous support.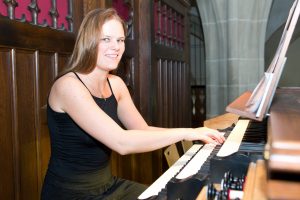 Yulia Draginda is an international concert organist and music technology researcher, as well as a doctoral student at the Schulich School of Music (McGill University, Montreal, Canada, organ class of Prof. Hans-Ola Ericsson, scientific advisor Prof. Ichiro Fujinaga).
Yulia Draginda is a very versatile person. Simultaneously with her musical education, she studied at the Lomonosov Moscow State University and obtained in 2008 the Diploma cum laude in Physics. In 2013 she received the Ph.D. degree in Physics and Mathematics (ICRAS, Moscow).
Since 1997 she has received many prizes and awards at international piano and organ competitions and has performed in renowned festivals. Her concert activity led her through Russian cities, then to Germany, Switzerland, Spain, Italy, Poland, USA and Canada.
Among others, she has worked with the Basel symphony orchestra (Switzerland), the symphony orchestra and choir of the "Helicon"-Theatre (Moscow, Russia), a brass ensemble under the direction of Wolfgang Bauer (Stuttgart, Germany), jazz orchestra "VolgaOrchestra" (Volgograd, Russia), and baroque ensemble "Alta Capella" (Moscow, Russia).
Yulia Draginda has an extensive concert repertoire, from Renaissance to Avantgarde, with the main focus on German late-Romantic organ music. She made several TV and radio recordings. Currently, she is working as Titular Organist at Saint-Lawrence catholic church in Montreal (Canada), as well as a freelance concert artist.