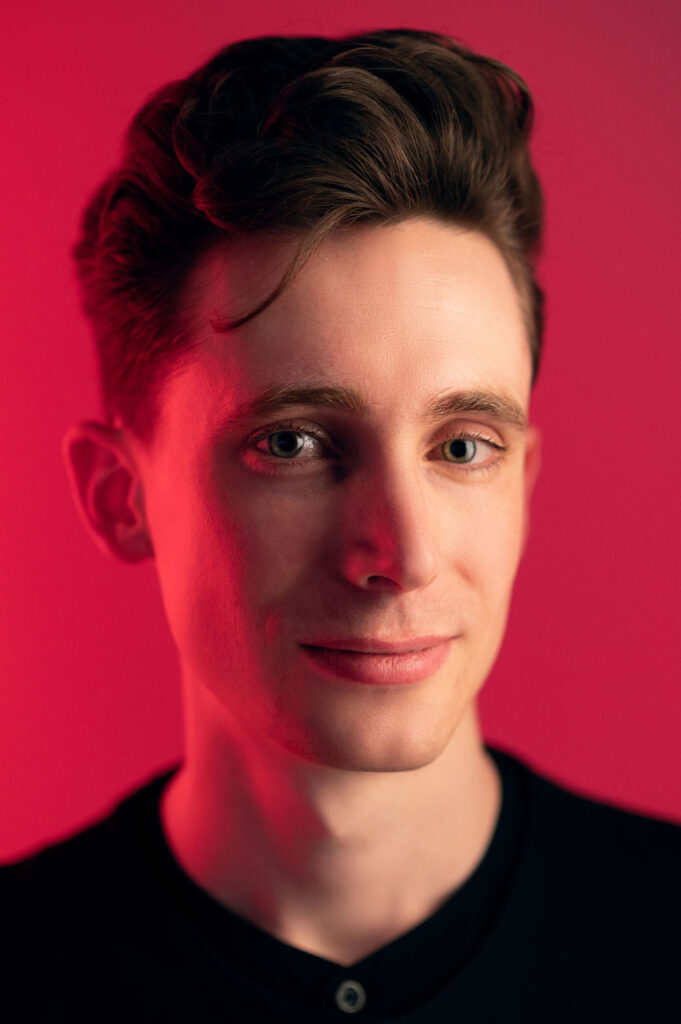 Appreciated for his "command of the seemingly impossible high tessitura" (South Florida Classical Review), countertenor William Duffy has established himself as equally comfortable exploring ancient tunes and the compositions of our era. Currently residing in Montréal, William enjoys regular performances as both a soloist with orchestra and a member of professional vocal ensembles across North America.
Notably, William is sought after for his interpretations of the music of J.S. Bach, and has performed over fifty of Bach's cantatas as a soloist and ripienist with historically informed ensembles such as Les Idées heureuses, the Montréal Bach Festival, Studio Musique Ancienne de Montréal (SMAM), Clavecin en concert, I Musici de Montréal, the Montréal Symphony Orchestra, and on numerous occasions during the complete Bach cantatas concert series at Bourgie Hall of the Montréal Museum of Fine Arts.
Additionally, William has been the featured alto soloist in J.S. Bach's Oratorios for Easter and Ascension with Ensemble Caprice, and in the complete Bach motets presented one voice per part (OVPP) by SMAM. Other key elements of William's solo Baroque repertoire include Pergolesi's "Stabat Mater," Buxtehude's "Membra Jesu nostri," Schütz's "Musikalische Exequien," the sacred polyphony of Gesualdo, Josquin, Gabrieli and Monteverdi, and the haute-contre roles of Charpentier's sacred works.
In modern realm, William has participated in premieres of several new works, including: "Nanumissuat – Île-Tonnerre" (2021) by Innu poet Natasha Kanapé Fontaine and Montréal composer Alexandre David with Les plaisirs du clavecin, and "Formes subtiles de la fuite" (2022) by Kim Farris-Manning with One Equall Musick. William has also sung nearly twenty representations of "Path of Miracles" by Joby Talbot with Voces Boreales as part of the group's ongoing "Urban Pilgrimage" concert installation.
The key events in William's 2022-23 season include several concerts and a Christmas album recording with Seraphic Fire in South Florida, appearing as alto soloist in Bach's B-minor mass at the Maison Symphonique in Montréal and Palais Montcalm in Québec City with Ensemble Caprice, and participating in the first of six concerts in a series of Christoph Graupner's complete cycle of nineteen cantatas composed for Good Friday with Geneviève Soly and Les Idées heureuses at Salle Bourgie.
Recent ensemble collaborations include presenting "Dolce cantavi" by Caroline Shaw with One Equall Musick, Benjamin Britten's "Canticle II: Abraham and Isaac" with Compagnie Baroque de Montréal, and a 12-voice Brahms's "Ein deutsches Requiem" staging with Les grands ballets canadiens choreographed by Andrew Skeels. Previously, William has appeared on stage at the Montréal Baroque, Montréal Bach, Illinois Bach, American Bach Soloists and Lanaudière Summer Festivals.
On the record, William can be heard as a soloist on the 2020 disc "Distance" by The Church of St. Andrew and St. Paul in Montréal on the ATMA Classique label, and soon on an upcoming digital release of "Path of Miracles" by Voces Boreales, and he has also contributed to choral recordings of 17th-century Italian and German repertoire and works of Québec composers with Ensemble ArtChoral.
William holds degrees in voice (California State University, Chico) and choral conducting (McGill University).
For more information, visit his website: www.guillaumedufay.com