Mária Budáčová and Jonathan Oldengarm offer a stunning program with works by Vierne, Reger, Karg-Elert, MacMillan, and Prévost. Presented as part of the 2020 CIOC Virtual Organ Festival. Special thanks to l'église Saint-Jean-Baptiste (Montréal), the Church of St. Andrew and St. Paul (Montréal), and Stratsimir Dimitrov.
Watch on Facebook
Watch on YouTube
Program:
Mária Budáčová, organ
Claire de lune, op. 53 no 5 (Louis Vierne)
Impromptu, op. 54 no 2 (Louis Vierne)
Benedictus, op. 59 no 9 (Max Reger)
Jonathan Oldengarm, organ
Cortège académique (Sir Ernest MacMillan) – in memoriam Ezra Schabas (1924-2020)
Cinq Variations sur un thème grégorien (André Prévost)
Claire de lune, op. 72 no 2 (Sigfrid Karg-Elert)
Symphonische Choral "Ach bleib mit deiner Gnade", op. 87 no 1 (Sigfrid Karg-Elert)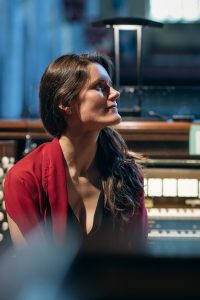 Mária Budáčová is an organist from Slovakia. In 2009, she graduated with a diploma in organ and choral conducting at the Conservatory in Bratislava. In 2011, she began studies at the Academy of Music and Performing Arts in Prague, under the guidance Pavel Černý. She also studied in Vienna as an ERASMUS student at the Universität für Musik und darstellende Kunst with Professor Pier Damiano Peretti.
Mária holds a Bachelor´s degree from the Academy of Music in Prague. Maria has recieved a number of awards, including the CSPBA award through Canadian Slovak Professional and Business Association, Donald Mackey Memorial Award, Schulich Scholarship, W Douglas Clarke Award through McGill University.
Mária was among 5 finalists in the prestigious Canadian International Organ Competition in 2014 and 2017. She is a first-prize winner of the Lynwood Farnam Organ Competition in Montreal. She is currently enrolled in a doctoral program in Organ Performance at McGill University´s Schulich School of Music under the direction of Hans-Ola Ericsson.
She is currently the organist of the Sts. Cyril and Methodius Roman Catholic Church and Mission St. Irénée de Lyon in Montreal.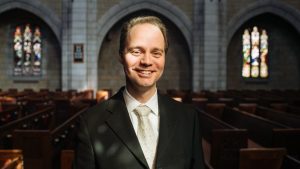 Jonathan Oldengarm is a versatile organist, harpsichordist and pianist, specializing in collaborative music and early 20th-century transcriptions. A prizewinner at several national and international competitions, he concertizes in Europe, Asia and North America. Recent performance credits include the Maison symphonique and St. Joseph Oratory (Montreal), Ensemble Caprice, McGill Chamber Orchestra and the Montreal Symphony Orchestra. He has been broadcast on the CBC, Radio Canada, Sirius Satellite Radio, NPR, RTÉ, and the European Broadcasting Union. He holds a doctorate in organ performance from McGill University; the Fellowship diploma of the Royal Canadian College of Organists; and studied at the Hochschule für Musik in Stuttgart, Germany. He teaches Liturgical Organ Playing and Improvisation at the Schulich School of Music of McGill University, and is Director of Music at the Church of St. Andrew and St. Paul, Montreal.