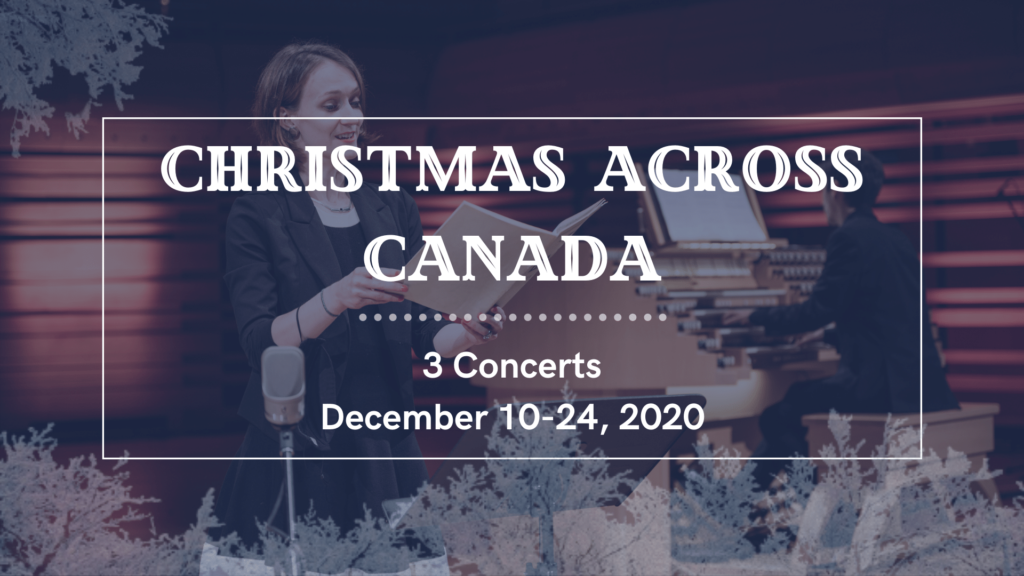 Montreal, December 7 – The Canadian International Organ Competition (CIOC) is proud to announce a series of three new concerts, available virtually, throughout the month of December as we countdown to the holidays. Bringing together musicians from across Canada, these special Christmas concerts will be performed on some of Canada's most iconic pipe organs.
The series begins this Thursday, December 10ths with Christmas Across Canada #1 and will continue Thursday, December 17th with Christmas Across Canada #2. Listen to traditional Christmas carols and excerpts from the Nutcracker arranged for pipe organ, along with music by Johann Sebastian Bach and many others.
Finally, celebrate Christmas Eve together with the Canadian International Organ Competition team on December 24th with The CIOC Celebrates Christmas. Recorded from the Maison Symphonique in Montreal, this special performance includes some Christmas carol favourites and other festival music.
Each concert will be streamed on QuebecBaroque.com at 7:30PM EST on their respective show date and will be available on demand for one week following the show. Tickets are presently available for purchase at a cost of $10 through QuebecBaroque.com.
The Canadian International Organ Competition is a non-profit organization that is dedicated to creating unique events and activities that showcase the talents of organists throughout the world. The promotion of the cultural importance of pipe organs – treasures of our heritage – through collaboration with partner organizations in the organ world, is at the core of its' mission.
Celebrate the holidays with CIOC and an evening filled with music!