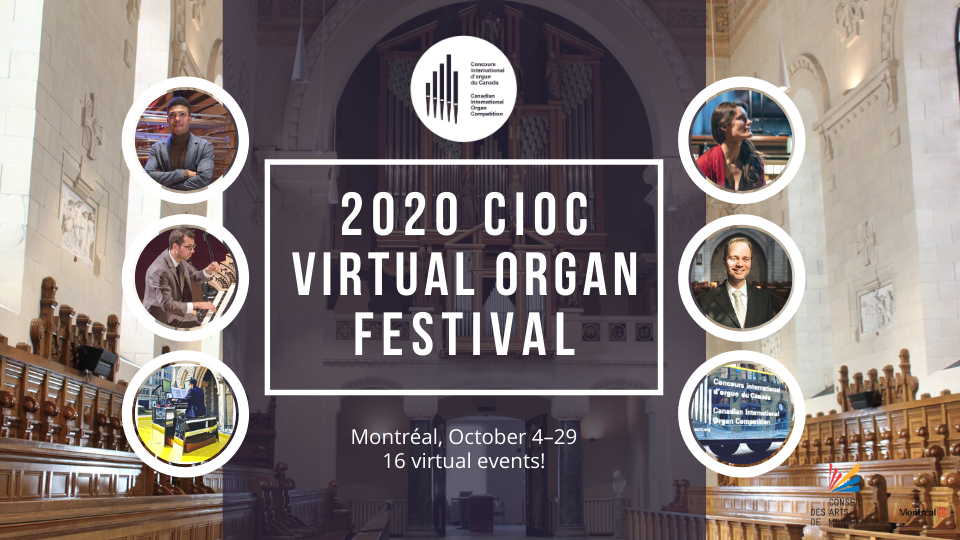 Presenting 16 virtual events throughout the month of October
With further shutdowns and restrictions announced for the Montréal region, your safety and security are of the utmost importance to us. We are pleased to announce that we will retain a full schedule of online events during the month of October, including live broadcasts of the Festival des couleurs de l'orgue français and video recordings on the newly designed CIOC Bach-Mobile!
Festival des couleurs de l'orgue français: now online!
Tune into our Facebook Live or YouTube Channel each Sunday at 3 p.m. for broadcasts from the Grand Séminaire de Montréal! Programs include French-Classical and Baroque gems, along with new works from the 20th and 21st centuries.
4 Oct. – Yves-G. Préfontaine
11 Oct. – Jacquelin Rochette
18 Oct. – Raymond Perrin
25 Oct. – Adrian Foster
Virtual Performances from friends of the CIOC
Each week we will broadcast original performances from past competitors and friends of the CIOC. With repertoire ranging from Bach, Howells, Duruflé, Messiaen, world-premieres, and more! Keep an eye on our Facebook page and YouTube Channel and don't miss these exclusive broadcasts!
8 Oct. – Oliver Brett
9 Oct. – Alcée Chriss III
15 Oct. – Maria Gajraj
16 Oct. – Mária Budáčová & Jonathan Oldengarm
22 Oct. – Laurence Jobidon
29 Oct. – 'In C(IOC)'
Pipes on Wheels! Unveiling the new Bach-Mobile
We're thrilled to present performances from Nicholas Capozzoli, Yulia Draginda, and Rosemarie Tougas on the CIOC's brand new Bach-Mobile, a mobile stage and organ console designed by DIX au carré and made possible by support from the Conseil des arts de Montréal. Many thanks to our additional partners Christ Church Cathedral, Place des Arts, and Groupe Spinelli.
5, 6, 7 Oct. – Nicholas Capozzoli plays Bach, Ravel, Burge, and Williams
17 Oct. – Yulia Draginda plays Rheinberger
23 Oct. – Rosemarie Tougas plays Bach
24, 26, 27 Oct. – Nicholas Capozzoli plays Albright, Saint-Saëns, and Elgar
Ticket sales and donations are an essential part of the CIOC operating budget. In order to ensure our programming is easily accessible to as many people as possible, we have decided to make all of our digital content available free of charge. Do you normally buy tickets to a CIOC event or donate when attending a free concert? If yes, please consider making either a one-time or monthly donation online today! If you have never bought a ticket to a CIOC event, now is the perfect time to dive in and support our artistic activities and public outreach.
Donations can also be made by cheque or through securities transfer. Should you wish to have more information about giving options, please do not hesitate to contact us.