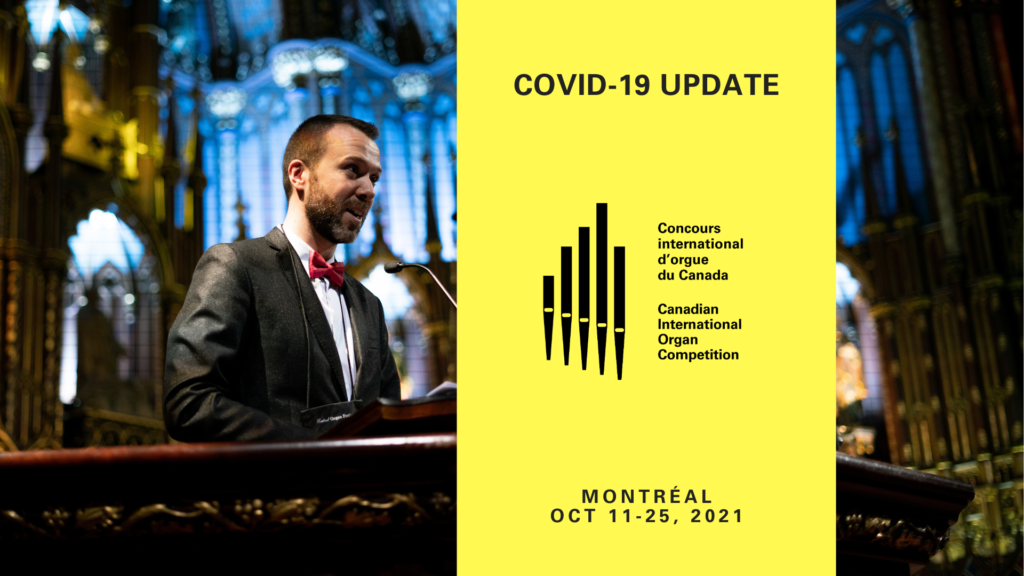 Watch our virtual press conference
The preliminary round for the next CIOC took place at the beginning of March in Montréal, and we wish to thank the 5 jury members for their excellent work:
John Grew, cofounder and Artistic Director Emeritus of the CIOC
Isabelle Demers, concert organist and professor of organ at Baylor University in Waco, TX
Christian Lane, concert organist, teacher, and 2011 CIOC First-Prize winner
Leo Marchildon, concert organist, composer, and cathedral organist in Charlottetown, Prince Edward Island
Kimberley Marshall, concert organist and professor of organ at Arizona State University, AZ
The level of talent and artistry of the 58 applications we received from 24 countries was exceptionally high, and the preliminary jury selected 16 candidates from 9 countries to participate in the 5th edition of the Canadian International Organ Competition.
Much has changed over these past months, and many questions and incertitudes remain for the months to come, including:
The ability to travel in a safe and healthy environment
Access to organs and churches
The possibility of gathering together to listen to music
The CIOC has a duty to provide our candidates, international jury, and audience with optimal conditions to prepare, participate in, and attend the competition. For these reasons, we decided to postpone the Competition by one year. The 5th edition of the CIOC will therefore take place in Montreal from October 11th to 25th, 2021.
We wish to thank everyone involved for having agreed to this delay, and we are pleased that all of the jury members and 16 candidates will be able to come to Montréal next year.
The repertoire for the first two live rounds in Montreal stays the same. However, we made a slight change for the programme of the final round at the basilica Notre-Dame : the imposed work by Charles Tournemire is abolished, and replaced by an imposed work by Marcel Dupré, from a selection of 4 pieces.